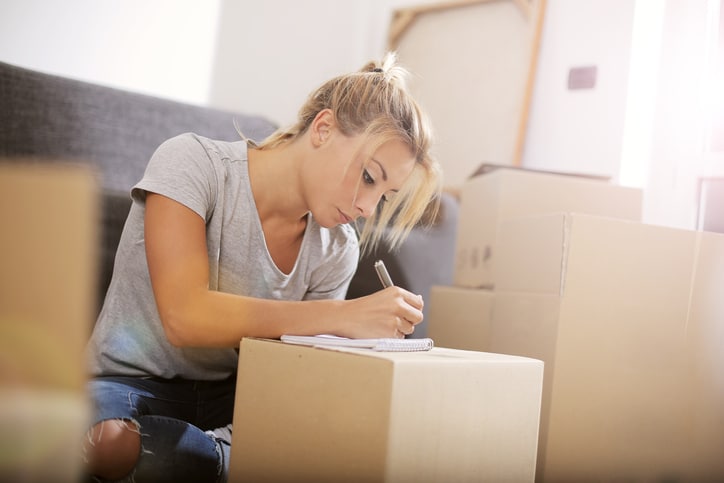 Are you about to move? If you're like most people, packing is probably your least favorite part. It may take several days or even weeks to sort out and pack your stuff. All the hard work can leave you so exhausted you will not have the energy for anything else. You may even hurt yourself if heavy items are involved. But if your items are not packed properly for the move, they could get damaged or broken. Packing, using the proper techniques and materials, is a must if you want to ensure a successful move.
The food news is, with some planning and common sense, you can simplify and streamline the packing process. Here are some packing tips to make your move painless.
Designate a packing area


To pack like the professionals, you need to first designate a packing area. It should be a large space in an easily accessible part of your home. It should have wide entry and exit points, so items of any size can be moved in and out without any obstruction. Anything that obstructs the free movement of packing items and materials should be removed. All the packing should be done here. Packed boxes should be removed to keep the work area clear.

Get the packing materials


When thinking of packing materials, cardboard and plastic boxes are probably the first things that come to your mind. These are the most commonly used containers for household items. These boxes are available in many different sizes. You may be able to get free boxes from department stores and supermarkets, but you never know what you will find. It is probably a better idea to but your boxes from a home improvement store or moving and storage company. These boxes come in a variety of sizes and will have convenient features like hand holds and labeling areas since they are made for moving. You will also need newspaper or packing paper, bubble wrap or foam sheets, packing tape, a knife or box cutter, permanent markers, and packing tape. Other items that might be useful include labels, a staplers, notebooks, pens, and pencils.

Wrap the items


Household items should be wrapped with newspapers, foam sheets, bubble wraps, or packing paper to protect them scratching and breaking. When wrapping an item, spread the wrapping material on the floor, place the item to be wrapped on top of it, fold the wrapping material around the object by pulling the corners together and then secure with tape. Use two or more layers of wrap for delicate items.

Pack the items


Prepare the boxes by placing a thick wad of paper at the bottom and sides to provide padding. Larger and heavier items should go to the bottom while the smaller and lighter items on the top. Flat objects, such as books and plates, should be arranged vertically to economize space and to use their structural strength. Wherever there are gaps between items, fill them with crumpled paper. Be careful not to overload the boxes. Tape the boxes securely after packing.

Label the boxes


After you have pack each box, label it with a label or by marking on the box. The label should have your name, destination, and the contents of the box written on it. If there are items that can easily break inside a box, label it as FRAGILE. Put a THIS SIDE UP sign on every box. Packing requires a lot of time and energy. Rather than doing it yourself, consider hiring a moving company that offers packing services. This will make moving a lot less painful. Get in touch with top Dallas moving company IMS Relocation, for all your residential, commercial, international, and specialized moving needs, as well as household, commercial, and portable storage solutions.