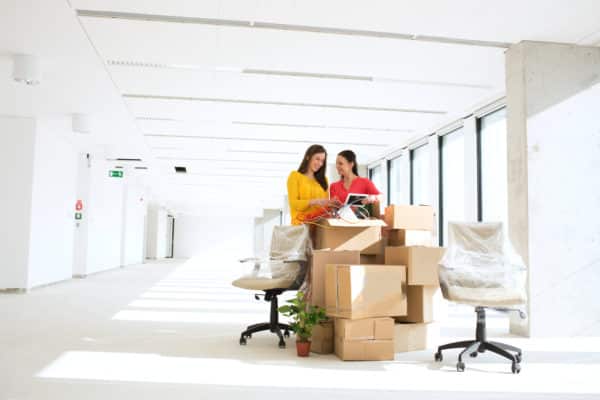 When you decide to relocate your business, you will want to get the move done quickly, with a minimum of disruption to your business's operations. You can't afford errors, oversights, or delays. In order to ensure your Dallas office move goes smoothly, you will want to make sure you are prepared.
Here are some tips:
Plan Ahead
Regardless of the size of your office, it's important to plan ahead. Ideally, you should begin laying the groundwork several months in advance, allowing you time to put together a plan that will not only get everything from point A to point B, but do so efficiently, while maintaining business continuity.
Part of this advance planning will involve selecting a reputable commercial mover. Your best option is to select a company that is well established and has plenty of experience with Dallas office moves.
Most companies that operate Monday through Friday opt to move over a weekend, to minimize down time for employees who must pack and unpack belongings and office supplies. If you plan your move carefully, you will know exactly what day your move out day will be, how long the move will take, when you will be in your new location and how long it will take to have your business back up and running.
Manage Equipment
Copiers, computers, desks, cubicles, and servers—your company runs on expensive equipment. You have to make sure transporting all that doesn't interfere with your operations during the weeks and months leading up to the move. As such, you need to figure out how and when they will be disassembled, crated, loaded, transported, unpacked and put in place once they get to your new location.
The company that will handle your equipment can help you through this process. Experienced movers can provide guidance on how to best relocate your equipment, and they will be able to pack things up efficiently, transport them safely, and reassemble everything as you need it at the new office.
Utilities and Services
Plans need to be made to terminate phone, electric, gas, Internet, and other utilities upon move-out of the old location. These services will then need to be turned on at your new location.
In addition to transferring services, make sure vendors, banks, suppliers, and other entities are aware of the move and updated on your new office location. Forward your business's mail with the postal service, but after the move, you may want to check back once at the old location for any mail that might have been delivered in error.
Relocating Your Business
Throughout the business relocation process, you will need a reliable commercial mover. As an agent of Mayflower, IMS Relocation has the experience and integrity you can trust. Contact us for a quote on your Dallas office move today.